Drafting Patent Applications
Not only are there different types of patent applications, but there are different procedures used to obtain a patents. For example, it may be useful to file a provisional patent application, then an international PCT application and then file a U.S. application as a national stage application. Phostech believes that each path for obtaining a patent and the content of the patent application must be coordinated diligently with the client in order to obtain the maximum strategic value.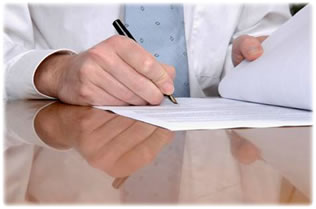 Equally important to the content of a patent application are the details, statements, or opinions that should not go into a patent application. In order to save on costs, companies often have engineers write the patent specification, believing it only to be a technical document. This often leads to unintentional major problems which can render a patent invalid. The information in a patent and how it is presented are crucial for obtaining the broadest patent protection on strong patents proven to be valid. In addition to understanding the rules for the patent application process and prosecution with the patent office, understanding the more recent patent cases and rulings can be critical to writing a good patent application that saves time, money, and enables the granting of a strong, effective patent.
Phostech's patent drafting services provides the benefits of:
Ensuring that the patent application aligns with the client's patent strategy
(reducing back-and-forth iterations)
A faster application process through direct, comprehensive interaction with the client
Easier and quicker transfer of the inventive concept due to a broad understanding of various technology areas
Providing a single source of contact for drafting the application and the drawings
Providing further opportunity for follow-on applications leveraging the earlier filing dates
Phostech has experience working with companies outside the United States who have sought patent protection for foreign-based inventions and intellectual property.
Phostech's ability to write, file, and manage all of the components of patent applications including the claims, specification, and the legal drawings increases the speed of the drafting of the application and reduces the overall cost. Phostech's complete patent management services complement the patent drafting and patent strategy services, and enable productive and cost effective intellectual property solutions for patent portfolios.